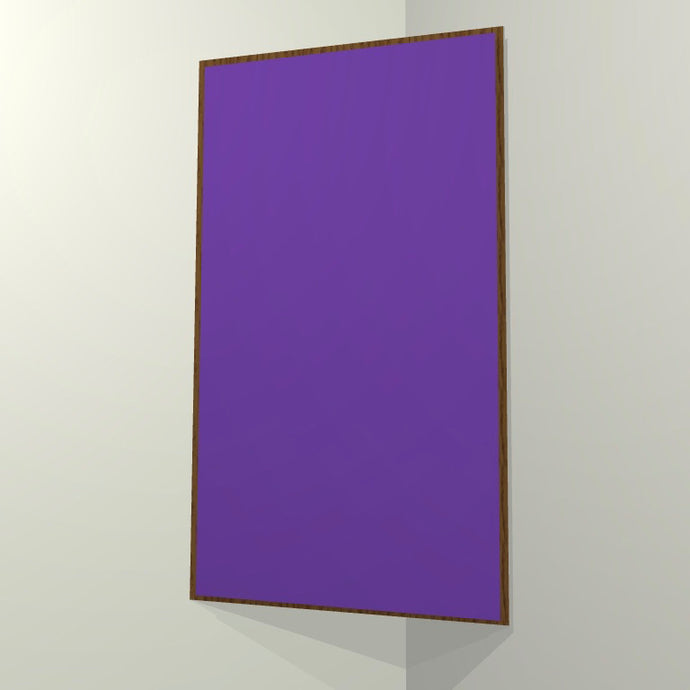 CORNER BASS TRAP - GRAPE & SPECIAL WALNUT FRAMED
Next Generation Acoustics
Regular price $ 150.00 Sale
FINALLY GET LOW-END CLARITY IN YOUR ROOM WITH NGA BASS TRAPS!
NGA Bass Traps are acoustic energy absorbers engineered to control & attenuate low frequency sound. They are commonly used in recording studios, mastering rooms, home theatres 

and spaces being used as a critical listening environments.

ADVANTAGES OF NEXT GENERATION BASS TRAPS:
Accurate broadband absorption

Eco-friendly materials (made with 30% post recycled materials)

Class-A fire rated acoustical fabric

Class-A fire rated acoustical insulation

Made in America 

Cost-effective

Easy installation

Visually appealing 

More effective than acoustical foam!
DESIGN:
Next Generation's Corner Bass Traps are designed to fit snug into corners. Since low frequency resonances in a room have their points of maximum pressure in the corners of the room, bass traps mounted in these positions will be the most efficient. Bass traps are typically used to attenuate modal resonances and low frequencies. The ideal placement & coverage needs depend greatly on the shape/size of your room and which room mode/frequency one is trying to target.
Next Generation's Corner Bass Traps consist of a strong wooden frame with an open back design. The strategically designed gap allows for maximum bass & low frequency absorption. (The backside facing is a silver faced FSK) 
Every one of Next Generation's Bass Traps are hand built, with love in North Carolina. Our team believes in quality. We design our Bass Traps to be highly functional and aesthetically pleasing. No seams/cuts/staples are visible anywhere on our panels.
The material inside of our corner bass traps is twice the density of what we put inside of our standard acoustic panels.
 (Bass Traps) 6lbs per sq.ft -  VS  -  (Acoustic Panels) 3lbs per sq.ft
This extra density assists in the absorption of lower frequency sound. NGA Bass Traps are a 3in thickness with a .5in lip around the edge. Making the total depth/thickness 3.5in. These traps effectively absorb sound from 200HZ and up. If you are looking for something that will absorb frequencies lower than 200HZ we recommend getting our 5.5in thickness corner bass traps!


 Included FREE is a Bass Trap installation kit!
 (I

ncludes four corner braces w/ screws for easy installation of your corner bass trap!)
If you have additional questions about how you can achieve the best acoustical environment for your room -or- if you have questions about this particular product feel free to contact us!

Info@NextGenerationAcoustics.com
Still Not Sure? Here's Some Other Helpful Resources We Provide: