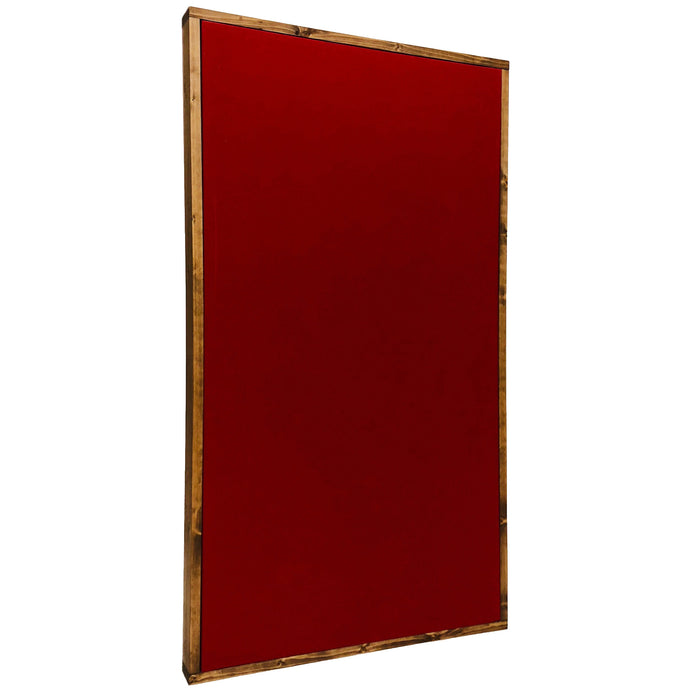 ACOUSTIC PANEL - COOL RED & SPECIAL WALNUT FRAMED
Next Generation Acoustics
Regular price $ 50.00 Sale
OPTIMIZE YOUR ROOM'S ACOUSTICS & AESTHETICS WITH NEXT GENERATION'S ACOUSTIC PANELS!
Our framed acoustic panels are the Rolls-Royce of Sound Treatment. These panels are heavy duty, look great and perform even better! If you're looking for classy looks and world-class performing sound treatment this is the obvious choice. Each panel is custom fabricated on a per order basis.

These panels have a dense internal core consisting of acoustical insulation, a wooden internal structural frame, wrapped in our Signature Series Class A fire rated acoustical fabric, and then finished off with a classy external wooden frame. These panels come in multiple size options. The internal and external wooden frames help to increase sonic diffusion by breaking up flat surfaces and standing waves in your room. If you want the absolute best for your studio room, commercial building or facility our premium framed acoustic panels are the perfect solution!
Each one of Next Generation's Acoustic Panels is hand crafted, with love in North Carolina, the furniture capitol of the world. Our team believes in quality. We design all of our acoustic panels to be highly functional and visually appealing. They are easy to mount on walls or other surfaces and work great anywhere sound control is needed!

No seams/cuts/staples are visible anywhere on our acoustic panels. Every panel is meticulously upholstered - with care. Our acoustic panels are wrapped with our signature series 100% spun polyester Class-A fire rated fabric. Our special fabric is acoustically transparent and especially durable.

Each panel consist of Class-A fire rated, non-corrosive, compressed fiberboard core. The backing is a silver faced FRK to protect from any exposure to the core and to keep the integrity of your panel from being compromised. Each core is made using 30% recycled material. 
TYPICAL USES & APPLICATIONS:
Recording Studio (Live/Control/Iso) Rooms
Churches & Worship Facilities
Restaurants & Cafeterias  

Live Music Venues 

Conference Rooms & Auditoriums 

Anywhere "sound/noise control" is demanded. 
ADVANTAGES OF NEXT GENERATION ACOUSTIC PANELS:
Accurate broadband absorption

Eco-friendly materials

Class-A fire rated fabric 

Made in America 

Cost-effective

Easy to mount

Visually appealing 

More effective than acoustical foam   
If you have any questions about how you can achieve the best acoustical environment for your room or if you have questions about this particular product please feel free to contact us.

Info@NextGenerationAcoustics.com

 

 
Still Not Sure? Here's Some Other Helpful Resources We Provide: